Editing by Greg Gao/WM Zhang
More Chinese home appliance giants join the country's rush to get into IC design. They are urged partly by the ongoing global chip shortage and concern for supply chain security and partly by emerging technological upgrading as IoT.
So far, these Chinese manufacturers include TV set producers Hisense, Changhong, TCL, Skyworth, Konka, and white goods giants Haier, Gree, Midea, and Galanz.
To design home appliance chips, these Chinese manufacturers will compete with world-leading players such as Renesas Electronics, Toshiba, Texas Instruments, Infineon, and NXP. Despite daunting challenges, they have to face reality. Since the third quarter of last year, global semiconductor shortages have hit Chinese home appliance manufacturers.
Liu Xin, a senior executive from a leading home appliance manufacturer, said, "The lack of some chips that are worth just a few yuan each piece has disrupted output of our products that are priced at thousands and a couple of ten thousand."
The U.S. sanctions on Huawei also alarmed China's home appliance industry, which uses only about five percent of IC from domestic suppliers. Liu said, "Our self-sufficiency rate of home appliance chips is very low. We could face huge risks. Raising our design capabilities will help reduce risks and ensure a more secure supply chain. "
China is both the largest home appliance manufacturer and market in the world. But this market is getting mature and saturated. New revenue sources and services are needed. Technological upgrading has always served as one of the driving forces for staying competitive in this market. For example, there are constant and higher requirements for image processing and computing capabilities in TV sets, pressuring the manufacturers for a higher grade IC.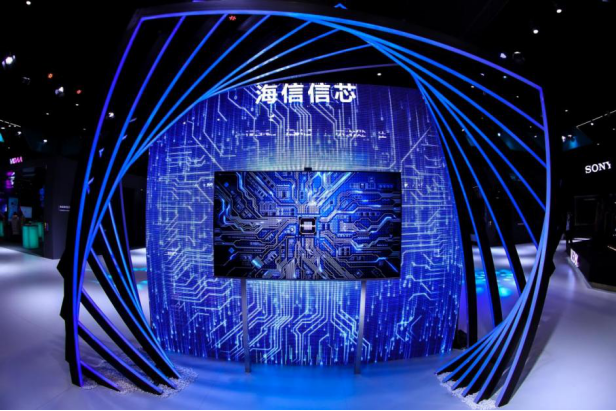 As early as June 2005, Hisense successfully developed the first industrialized digital video processing chip with its intellectual property rights. After that, Changhong, Skyworth, TCL, Konka, and other TV manufacturers followed suit and started designing their chips.
The rise of IoT, especially artificial intelligence IoT, is making possible new applications for more connected and smart home devices. Many manufacturers see it as new opportunities to redefine their products and differentiate them from competitors.
Ailian Technology, a subsidiary of Changhong, has now come up with 5G industrial IoT modules and ultra-small 5G communication modules. Skyworth invested heavily in developing a series of AI chips, which have significantly improved its TV set image quality.
TCL Technology announced establishing a joint venture with TCL Industry Funds to produce power management and voice-controlled chips.
Konka set up a storage chip packaging and testing base in Yancheng of Jiangsu Province and established an optoelectronics research institute in Chongqing City, trying to make breakthroughs in Micro LED chips and lead the next-generation display technology.
Unlike TV set producers, white goods companies used to be less motivated to design their own IC and count on imports. With AIoT technology, they are changing and going after smarter and interconnected products to improve the user experience. Midea, Haier, Galanz, and Gree now all have IC design subsidiaries. Midea's subsidiary Meiren Semiconductor has successfully developed various MCUs used in air conditioners, HVAC, refrigerators, and washing machines.
Haier has developed an IoT chip called Yunxin II for smart home devices. It was first used in its smart air conditioners for export to Southeast Asia and South Asia.
Galanz and LeapFive (跃昉科技), an AIoT pioneer, have developed a variety of microwave oven chips.
The product line of Gree's IC subsidiary, Zhuhai Zero Boundary Integrated Circuit, has master control MCU, AI, and power management chips for air conditioners, remote controls, washing machines, refrigerators, and dishwashers.
While Chinese home appliance manufacturers have made progress in MCU and related areas, it is widely believed that there is still a wide range of IC they will have to rely on overseas supplies.